In November 2020, the PARSEC ecosystem welcomed four experts from the European Global Navigation Satellite Systems Agency (GSA) to speak at an informative webinar entitled "The European Satellite Navigation System: services and applications and what's in it for remote sensing".
The goal of the webinar was to present insights with regards to the EU Satellite Navigation (satnav) technologies and how their use can enhance the potential of Earth Observation-fuelled innovation. In this article we aim to provide a short overview of the opportunities and benefits highlighted by the GSA experts during the webinar.
Market developments indicate vast opportunities for new value-added services
Starting with the presentation on the satellite navigation programme and market trends, Mrs Carmen Aguilera, the Head of Section Operational Market Development & Safety Critical Applications at the GSA, presented interesting market statistics regarding the EU satnav services and how market development is a key activity for the GSA. The GSA regularly monitors the latest technological developments and forecasts market trends, with the results of their work being presented in freely accessible biennial reports [1].
Following current trends, the rapid expansion of the use of Galileo in various positioning technologies offers huge opportunities for SMEs and start-ups to explore.
In the first four years of activity, almost 2 billion users have benefitted from Galileo's open data and high accuracy services. Today, more than 1.8 billion phones are Galileo enabled, 97% of new tractors in Europe use GNSS to optimise their navigation and 35 drone receiver manufacturers incorporate EGNOS and/or Galileo in their technologies (browse Use Galileo website for more details). Latest forecasts seem to point to a similarly important increase in the use of Galileo and EGNOS in the future. By 2029, 10 billion devices are expected to have installed EU GNSS technologies, with more than 8 billion of these being used in commercial applications. According to Mrs Aguilera, these trends provide a huge opportunity for SMEs to propose value-added commercial services based on GNSS across various sectors, including food, energy and environment – the PARSEC focus on sectors.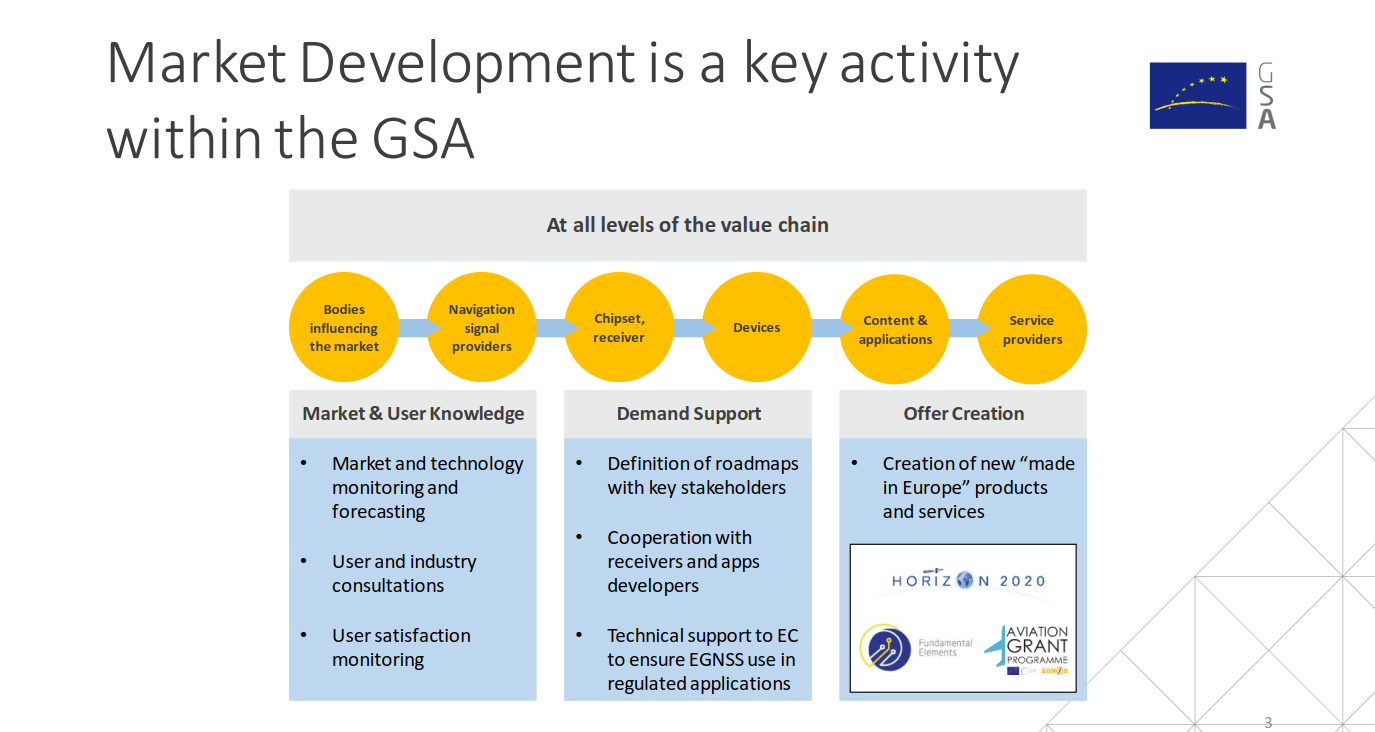 Looking at some sector-driven examples, the share of devices using EU GNSS technologies for agriculture is expected to double from 5% to 10%, while drones will continue to represent more than half of the use cases. A fifth of the total amount of devices in the maritime sector will be benefiting from the EU GNSS technologies. In general, the current European share of the global GNSS market is estimated to reach around 27% and include different market segments with road, maritime, surveying, drone, and critical infrastructure being amongst the most important ones. This share could increase in the future with the expanded use of EGNOS, which was initially created for aviation but is going to be increasingly used in other market segments where accuracy and integrity are crucial.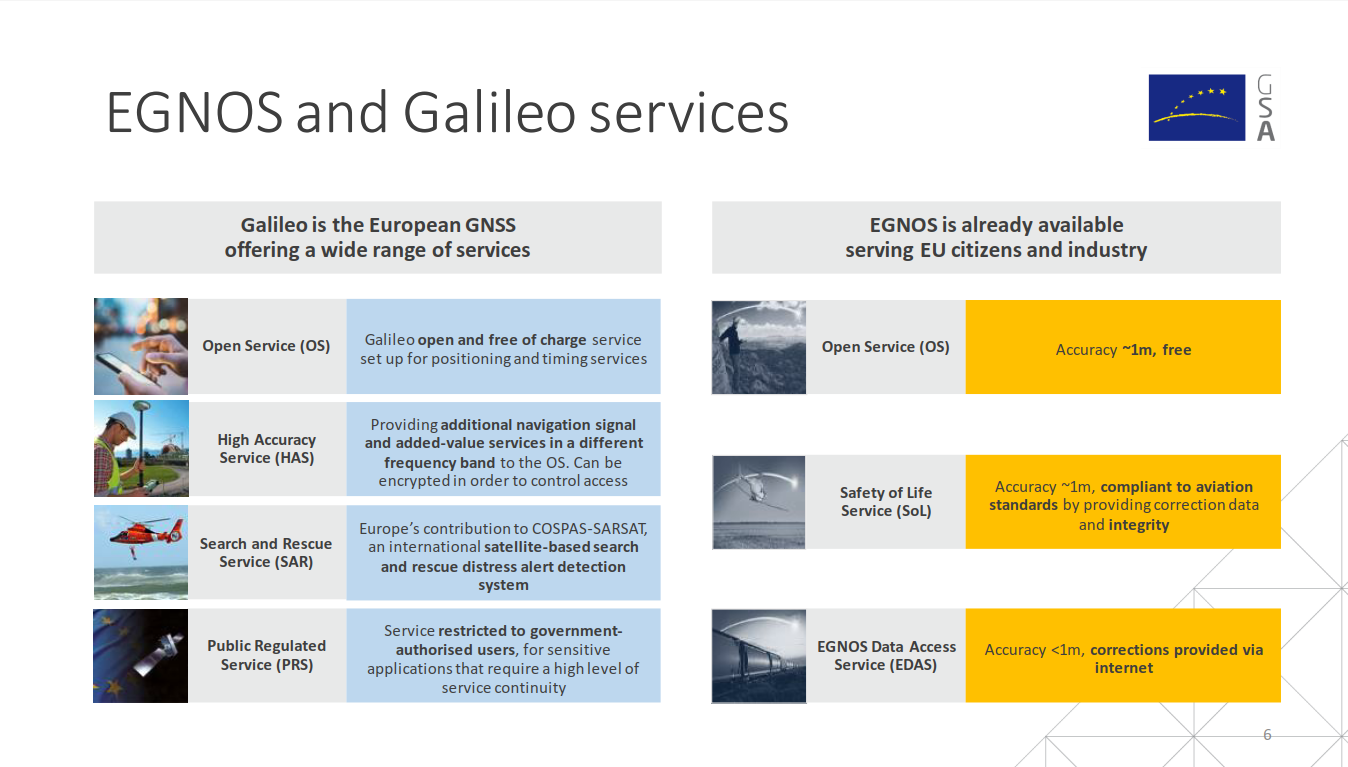 What are the main dimensions of users' needs when innovating with GNSS?
Mrs Justyna Redelkiewicz, the Head of Section Mass Market at the GSA, highlighted that innovating with GNSS doesn't mean your business solutions are solely related to localisation. SMEs and start-ups working mostly with Earth Observation (EO) can also greatly benefit from satnav by using GNSS technologies to enhance the performance of their solutions or to address a new challenge in their sector. A good example of combining EO and GNSS technologies are solutions that involve motion (e.g. moving object tracking), where positioning is necessary. Mrs Redelkiewicz noted that the diversity of user requirements also opens up opportunities for innovators. The opportunity lies in the fact there is not a "fit for all" solution when it comes to positioning. Thus, tailoring the GNSS technology for a specific use can deliver significant performance benefits to each use-case. This becomes more evident if we consider the two basic variables of the GNSS technology; accuracy (ranges from higher to lower) and the necessary data refresh rate (ranges from periodic to continuous). So, for instance, to track a drone's location in real time, higher accuracy and more frequent data refresh rates are required in comparison to monitoring the location of a postage package being delivered. To prepare a new solution for the market, start-ups and SMEs keen on innovating with GNSS technologies should also consider that besides improved performance, the end users also expect that the price of the end product or solution does not increase.
Innovating with GNSS doesn't mean your business solutions are solely related to localisation.
To help businesses choose the best GNSS technology that fits their purpose and meets end users' positioning needs, Mrs Redelkiewicz highlighted the four main dimensions around which GNSS technologies are evaluated: ubiquity, accuracy, security and connectivity.
Ubiquity, the availability of the positioning everywhere. Today the approach for increased ubiquity is using "multi-constellation" data that is supported by receivers which can combine and process data also from other GNSSs (GPS, GLONASS, BeiDou). Nowadays, 80% of receivers work with multiple GNSSs, with only the remaining 20% relying solely on GPS. High levels of ubiquity are also important when working in difficult environments like forests or cities. In these cases, the "multi-constellation" approach can greatly improve positioning.
Accuracy of locating the position. One of the latest revolutions in GNSS technologies is the use of "multi-frequency" which allows the elimination of errors and greatly improves accuracy.
Security, including the trustworthiness of the data. Galileo's authentication feature allows its users to understand whether the positioning data comes from Galileo or from a different source.
Connectivity of information among devices and users is currently being further developed, mainly through hybrid solutions [2].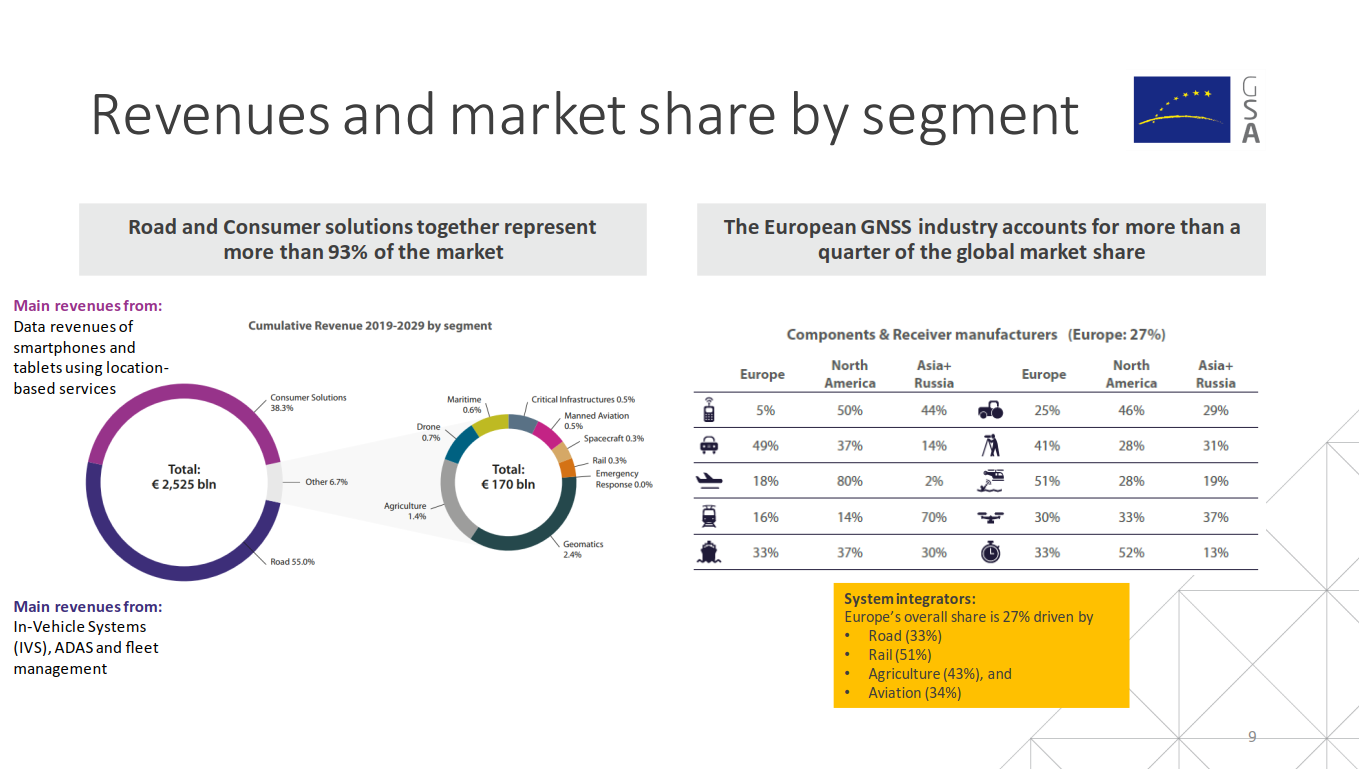 Earth Observation and Satellite Navigation in action: a few examples
Following the discussions on user needs and key elements to succeed when innovating with GNSS, Mr Eduard Escalona, GSA's Market Development Innovation Officer, presented the power of synergies between EO and GNSS. As he highlighted, both programmes have great complementarity, especially concerning their synergies across the downstream value chain and across the various applications of both technologies. A few recent examples of the results of these synergies can be seen in various agricultural applications. For example, combining data from Copernicus and Galileo enables the development of georeferenced vegetation maps and provides high spatial precision guidance for the application of pesticides across fields. Another example is the combination of precipitation forecasts and soil moisture data with GNSS technologies, resulting in more precise localisation of dry areas in a field.
Besides, the direct improvement in the performance of several solutions, the synergies between EO and GNSS are key assets for businesses to help ensure, monitor, and shape the implementation of the EU Green Deal.
Already many commercial or public applications such as oil spill detection, illegal fishing, disaster management, urban planning, mobility, smart grids, etc. use the combination of EO and GNSS. To further promote the synergies of the two EU Space programme components, the EU is funding several Horizon 2020 projects. Examples of concrete applications are the SARA Search and Rescue project for disaster management (detecting people lost at sea during night) and GIMS, addressing the challenge of landslide management.
From GSA to EUSPA: further synergies with Earth Observation
Looking to the future, Mrs Fiammetta Diani, the Head of Market Development at the GSA, indicated how synergies between satnav and EO will become even stronger thanks to the establishment of EUSPA, the European Union Agency for the Space Programme. The Agency will start its activities in 2021, targeting the promotion of EGNOS and Galileo, together with the downstream markets for Copernicus, the activities of the EU Governmental Satellite Communications (GOVSATCOM) and the Space Situational Awareness program.
The integration of the EU's space activities shall bring new opportunities for SMEs and start-ups to build on these synergies, attract new users and expand the market for their innovative ideas.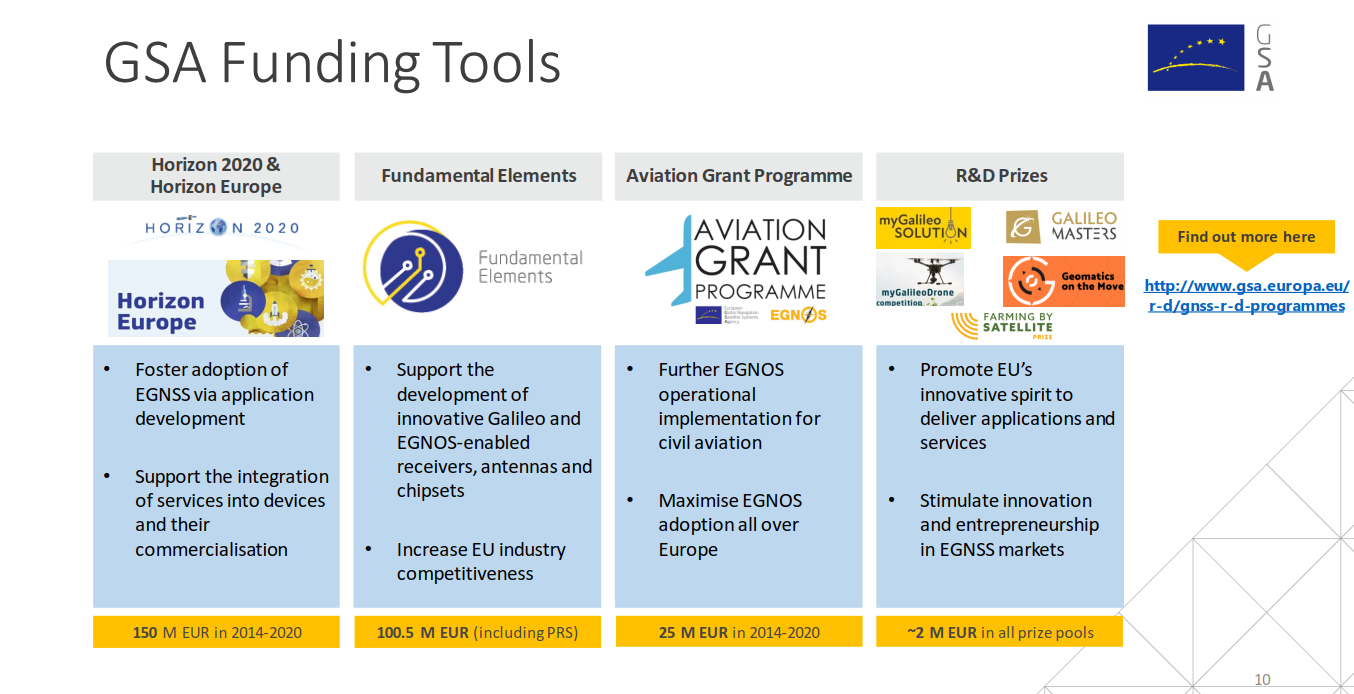 Direct support to create new GNSS-powered products and services
With the EUSPA starting its activities soon, the GSA continues to ensure a variety of support services and innovation programmes to fund and facilitate SMEs and start-ups in igniting
innovation with GNSS, such as the Horizon Europe (former Horizon 2020), Fundamental Elements, the Aviation Grant Programme, and the Research & Development Prizes (My Galileo Solution, MyGalileoDrone, Galileo Masters a.o.). For the latest updates about the EU GNSS funding opportunities you can sign up for the "Watch this Space!" newsletter here. Moreover, collaboration with developers and the offering of technical support is an important part of the GSA's activities. For instance, for companies working with drones, the Agency has made a list of receivers with Galileo capability alongside a set of recorded webinars and materials to support the integration and use of Galileo technology in drones openly accessible on the #MyGalileoDrone competition page. The yearly User Consultation Platform is a space where users from twelve different market segments meet to discuss their needs for applications relying on Location, Navigation, Timing, Earth Observation, and Secure Telecommunications. It also brings Copernicus and GOVSATCOM users together in order to help shape the future activities and developments of EU space technologies. Results are reflected in the Reports of user needs and requirements.
About the European GNSS Agency (GSA)
The European GNSS Agency (GSA), is the European Union Agency in charge of managing operations, security and service provision for Europe's Global Navigation Satellite Systems (GNSS), Galileo and EGNOS. By working with stakeholders, industry, service providers and user communities, the GSA ensures the highest return on European GNSS investment, multiplying the benefits of space applications for European citizens and business, boosting innovation and competitiveness, and securing sustainable economic growth.
References:
[1] You can read and download the latest GNSS Market Report: https://www.gsa.europa.eu/market/market-report and the latest GNSS User Technology Report here: https://www.gsa.europa.eu/european-gnss/gnss-market/gnss-user-technology-report.
[2] For more insights you can read the GSA's white paper "Power-efficient positioning for the IoT" explaining all the different possibilities of how hybrid solutions can be created and adjusted for performance, here: https://www.gsa.europa.eu/newsroom/news/power-efficient-positioning-iot