Launchpad to Success: Event and Insights Recap
On December 15th and 16th, the PARSEC community came together for our event, Launchpad to Success. We packed quite a lot of excitement into just two days! In this post we will be recapping the happenings of the event, sharing the insights generated during our time together and delving into the future possibilities enabled by the PARSEC Accelerator.
Spreading the word on Earth Observation
Organised as a side event of the Valencia 2021 Digital Summit, PARSEC's Launchpad to Success was an opportune time to present the generative power of Earth Observation to an audience not as familiar with the topic. This was especially the case when PARSEC took to the main stage for a presentation on successful business cases enabled by EO (more on this below).
In between time spent at dedicated PARSEC events throughout the two days, the PARSEC community had the opportunity to network and share their unique solutions with other Summit attendees from all over. Those not yet familiar with EO were able to learn about its potential first-hand by hearing directly from #15PARSEC beneficiaries who could detail how their EO-based solution is driving value and disrupting industries across the globe.
However, most importantly, the event marked a culmination of two years of hard work, collaboration and dedication. Launchpad to Success was thus a much-needed opportunity to bring the PARSEC community together to interact face-to-face, connect on shared experiences and discuss about what's to come.
A stage for EO-based solutions empowered by PARSEC
On Wednesday, December 15th, the event kicked off with the PARSEC Pitching Championship. The championship gave platform to eight PARSEC teams pitching their respected #15PARSEC solution in front of a jury of investors. We had four teams pitch in person and four pitch virtually. The pitching line-up:
Winners
After jury deliberation, the award ceremony began. Our project advisor, Milena Stoyanova from the European Innovation Council and SMEs Executive Agency (EISMEA) kicked the ceremony off. Emmanuel Pajot, Secretary General of EARSC took the stage next to announce our winners.
VIDA was awarded Best Solution Gold and IO3T was awarded Best Solution Silver. ScyscrApp took home both the Best Partnership and Jury Awards. A warm congratulations to our winners and a very big thank you to all the teams that participated from both near and far!
In the evening, the PARSEC community was represented at the Capital4Startups Pitch Competition organised by Startup Valencia. Two #15PARSEC beneficiaries were selected to pitch in this prestigious competition.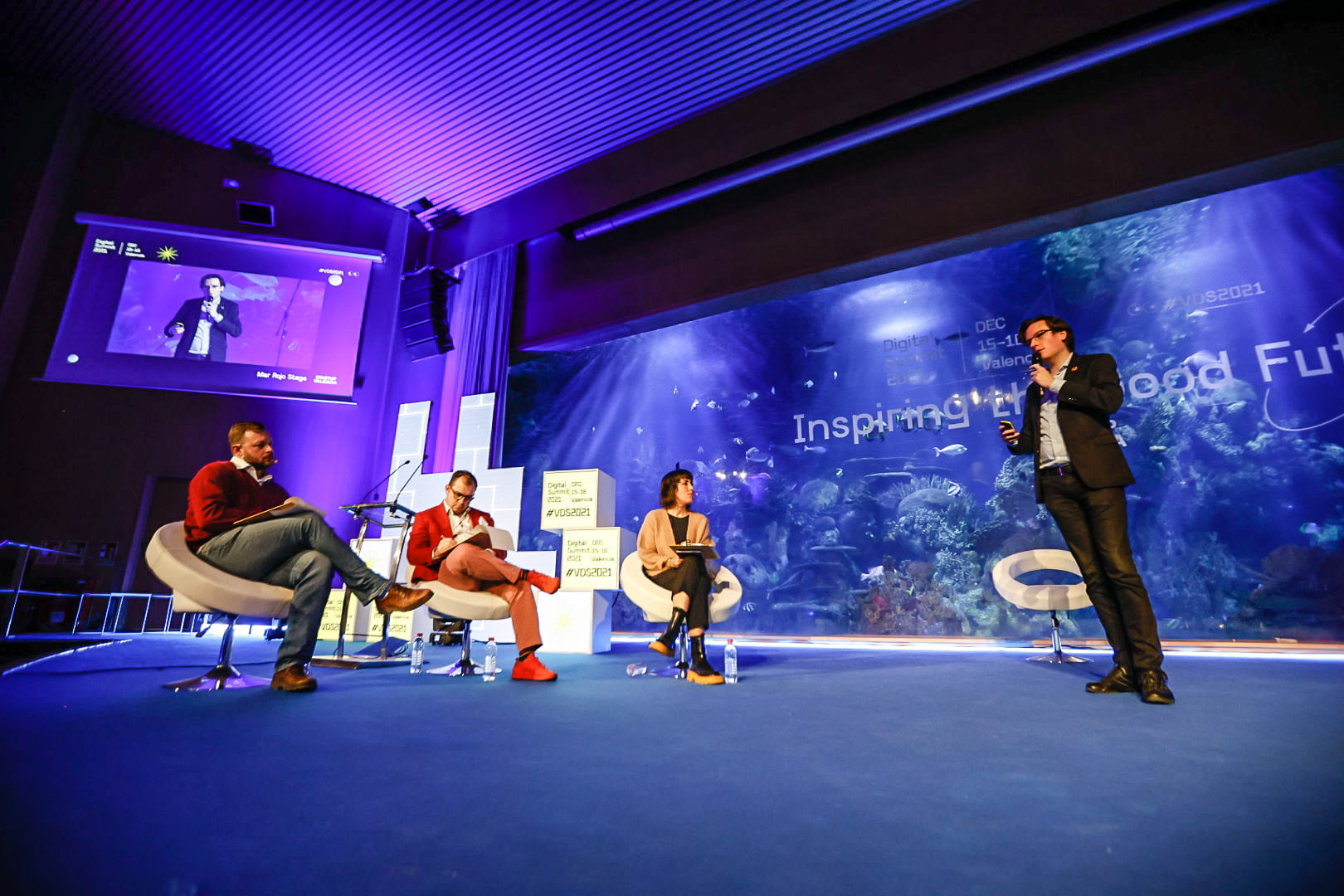 Robert Heinecke, Founder & CEO, Breeze Technologies (#15PARSEC HealthyPlaces)
Breeze Technologies develops air quality sensors that measure common pollutants. Their Breeze cloud platform gathers real-time data from Breeze air quality sensors as well as external data sources. The platform can assist facility management, environmental scientists and even municipality management and governments in understanding air quality, its influences and how to improve it.
Dragana Vukasinovic, Founder & CEO, Fauna Smart Technologies (#15PARSEC Space4Fauna)
Fauna Smart Technologies provides farmers with science and tech systems to grow food and re-build biodiversity, healing planetary ecosystems, starting with agro-ecosystems.
The Power of Earth Observation takes centre stage
Thursday, December 16th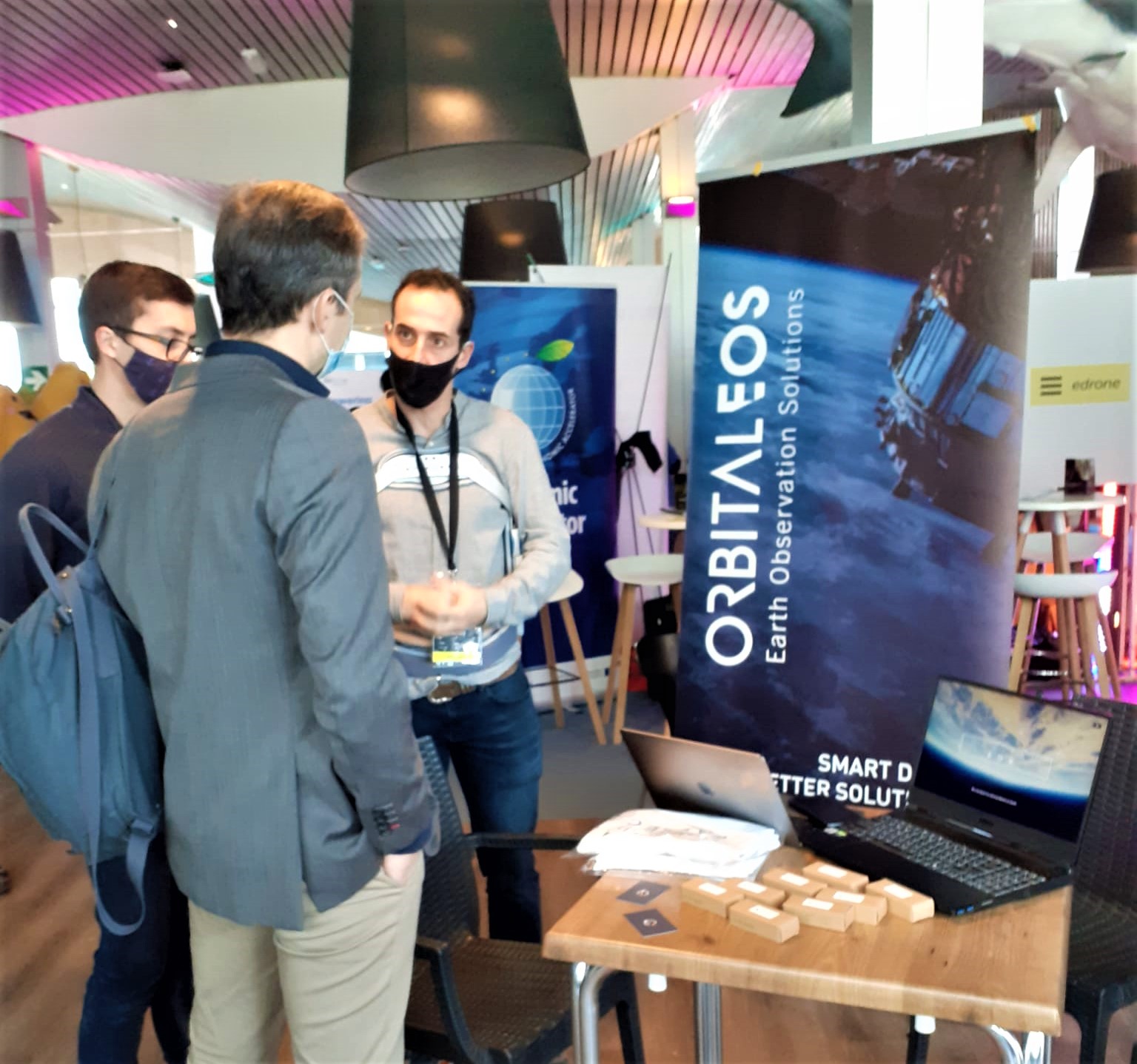 The following day, two PARSEC beneficiaries, Orbital EOS (#15PARSEC Okeanos) and Agcurate (#15PARSEC Cottonsurance) were present at Digital Summit's Meet the Startups. During this speed-dating event, the two companies were able to promote themselves while also sharing about their participation in the PARSEC Accelerator.
Earth Observation: Inspiring the Good Future
In the afternoon, PARSEC took to the main stage for the EO-Based Success Stories presentation. With Digital Summit's overarching theme being Inspiring the Good Future, the presentation centred on how Earth Observation is enabling solutions that drive positive impact and change to the environment, societies and ultimately the world. Below is a recap of the insights and knowledge shared throughout the presentation.
Salomé Reillo, from PARSEC partner Avaesen, started off the presentation by giving us some background info on the impressive work her team does before moving into an introduction of the presentation and of the PARSEC accelerator.
Next up was PARSEC's project officer, Weronika Borejko (EARSC). Weronika kicked off by discussing how, in line with Digital Summit's theme, we are in a cultural moment in which identifying innovative answers that can help the world solve its growing challenges to ultimately stimulate a bright future is crucial. Earth Observation is such an answer. She went on to say that the 15 solutions developed within the PARSEC Accelerator project, all enabled by EO, are exactly the type of solutions the world is looking for when it comes to promoting and inspiring a better, safer and more prosperous future. But before delving further into PARSEC and its solutions, Weronika shared some key figures about the Earth Observation sector.
For businesses, municipalities and investors, the EO sector is a stable one that has been increasingly growing throughout the past few years. With impressive annual revenues and steady, sustained growth, it's a sector that can attract talent, drive success and deliver on investment. Moving on, Weronika delved further into PARSEC and its history before passing the mic to the first PARSEC beneficiary speaking, Robert Heinecke.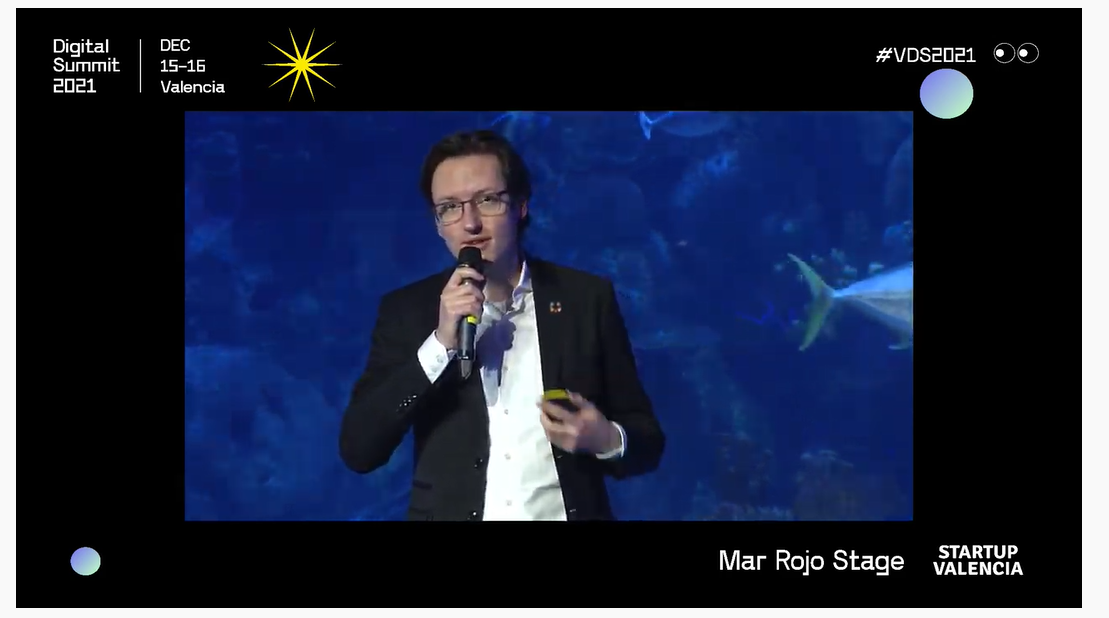 As founder & CEO of Breeze Technologies, Robert was on stage representing his #15PARSEC solution, HealthyPlaces. Breeze Technologies together with Proximi, developed HealthyPlaces, an app that leverages in situ and EO data to help pedestrians get from A to B with exposing themselves to the least amount of air pollution possible.
Through PARSEC, the team was able to bring together two different approaches: air quality expertise and positioning and geo-fencing knowledge, empowering a holistic approach to make the greatest amount of impact possible, especially from a societal perspective seeing as air pollution is the greatest environmental health threat of our time. Thus, through usage of HealthyPlaces, the solution aims to create transparency about air pollution problems, in turn enabling change momentum to address the problems, all while protecting users as much as possible. HealthyPlaces is currently available in Hamburg and Helsinki, and the team is looking to scale the app to other cities throughout the world.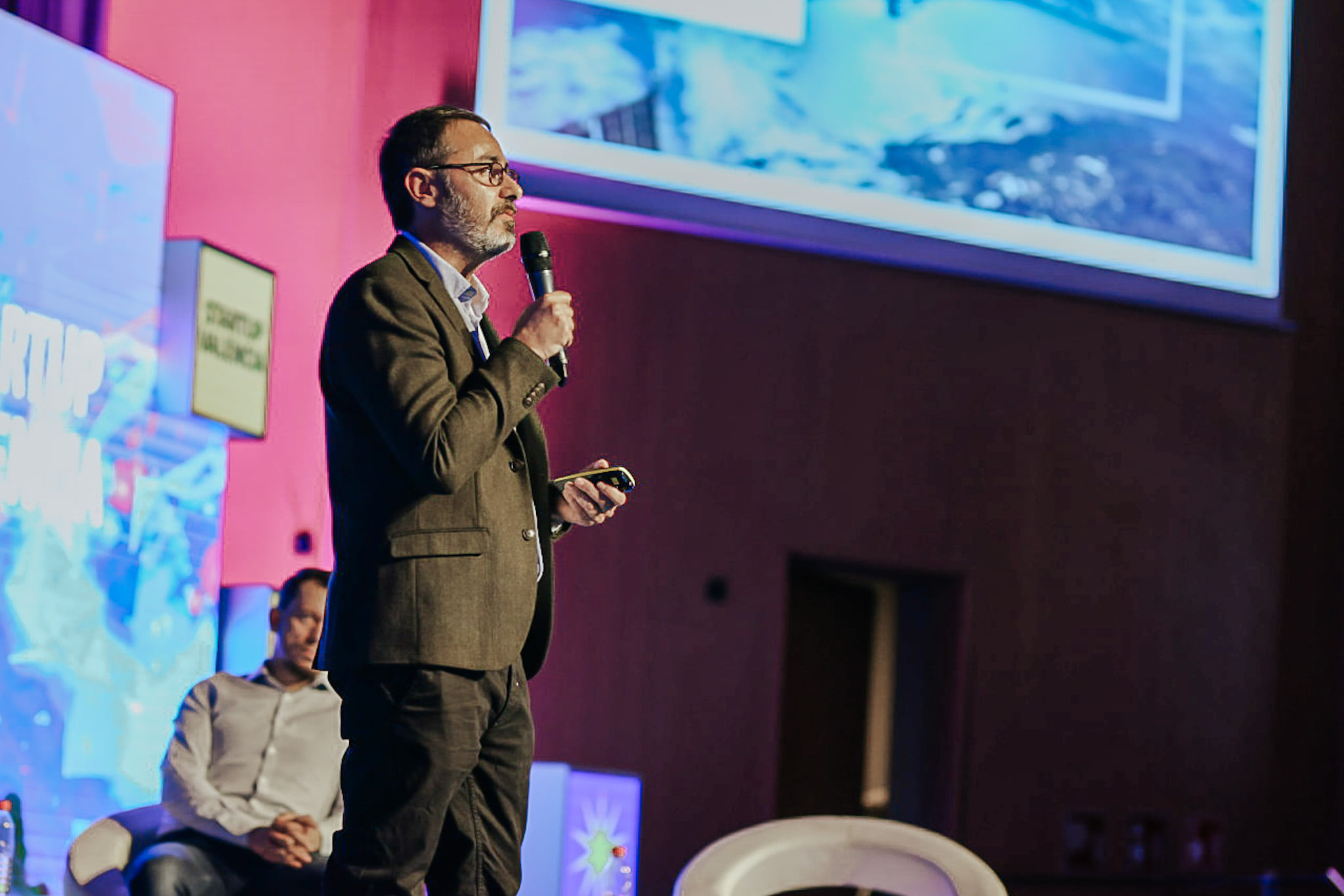 Up next was Juan Peña Ibáñez, CEO and co-founder of Orbital EOS, to present on behalf of his #15PARSEC solution Okeanos, developed in partnership with CMCC. Juan started us off with a reflection on this statement: uncertainty is the new normal. Despite how normal uncertainty has become, for decision-makers, navigating uncertainty related to major environmental threats is still difficult. However, more solutions are becoming available to provide increased accuracy and prediction abilities to help mitigate environmental threats.
Okeanos is such a solution. A digital platform designed as a one-stop shop for oil spill monitoring, reporting and forecasting, Okeanos is one of the most advanced systems of its time. With help from EO data, the platform can be used to monitor deliberate pollution from ships, asset monitoring of oil rigs and signal emergency responses for oil spills. Okeanos combines experience, speed (currently the fastest service in the market), convenience and accuracy (operating with AI models trained by experts resulting in 60% improved accuracy).
Finally, Osman Baytaroğlu, CEO and co-founder of Agcurate, presented Cottonsurance. Osman started off by sharing an alarming statistic: 4 out of 5 family farmers are uninsured. These farmers are usually located in remote areas with poor infrastructure, making them difficult to reach and costly to take care of. To address this issue, Agcurate, a satellite imagery analytics company and OKO Finance, experts in parametric insurance design, partnered together to create Cottonsurance.
Marrying the abundance of EO data available with the expansion of smartphone and mobile money usage, the partnership created an index insurance solution that farmers need and want. Farmers apply via SMS, pay using mobile money and Cottonsurance starts tracking the rainfall in their region using EO data. Then, in case of lack of rainfall, Cottonsurance automatically compensates them. By directly working with farmers, there's no middleman with any conflicting incentives.
In their pilot in Mali, they've insured 721 farmers and had a 97% conversion rate, exemplifying that users are interested and in need of the solution. Osman continued on, sharing some impressive figures about the relatively small market (considering the geographical size being addressed) that is growing quite fast with the introduction of index insurance, with 45% year over year adoption rate. Now it's time to expand to other regions. Cottonsurance is looking for partners and anticipating the incorporation of more EO data into their solution.
After the solutions were presented, a brief Q&Q session was held. The first question:
How has Earth Observation changed your business and/or made it possible?
Robert: Cities need to maintain large air-quality monitoring stations that can cost millions of euros each year. EO data already exists and, in comparison to in situ data, is available globally. It can then be easily integrated to a SaaS platform in an economic manner. You can also use EO data to fill in the gaps not necessarily provided by sensors, and this can provide a most holistic look into air quality for the user.
Juan: Being a small startup, using EO data means we can offer our services to global companies, this is impossible with traditional observational methods. In addition to this, these traditional methods come with a higher environmental footprint when considering the resources needed to keep them operational. Additionally, our challenges are no longer regional, they are now global. The best way to understand global challenges is to look globally, from space, so EO will definitely revolutionize the way we understand the world and will continue to enable us to extract the most relevant information needed to make the best decisions possible.
Osman: Insurance within the agriculture sector has existed for quite a long time. However, insurance has become more costly and complex over time. Index insurance is here to solve these issues so insurance can be more accessible and when combined with EO data, more accurate and scalable. Using earth observation is the only way to scale our solution.
What were the key elements from PARSEC that have enabled success for your solution?
Robert: We gained access to valuable networks through PARSEC that furthered our reach and growth. Additionally, PARSEC's financing enabled innovation that would have not otherwise been possible.
Juan: Through PARSEC we were able to develop a solution that hasn't yet been seen on the market. This is due to not only the strong encouragement to innovate but also due to the great mentorship, support and partnership available through the accelerator.
Osman: Through PARSEC we meet our partner which allowed us both to gain more expertise together to differentiate our solution in the market.
Key insight takeaways:
PARSEC is not a traditional accelerator; we encouraged working in cross-sectional and cross-regional clusters to stimulate synergies and alliance in the name of leveraging EO to create value for society and the world.
The three main sectors (food, energy and environment) that PARSEC concerns itself with are facing considerable challenges. PARSEC has proven that EO-based innovation can revolutionize how these sectors operate to spur positive and lasting change.
PARSEC set out to inspire innovation using EO data and has successfully done so by enabling the creation of 15 impressive solutions that are now currently available on the market and/or ready to be scaled up to continue driving success.
The journey's not over yet
We are examining options for the future of the accelerator beyond the end of the project, and are seeking ways in which we can continue to support the development of EO-based products and services, enabling access to finance, knowledge, markets and expertise. Are you interested in future partnership?  Let us know here and we will contact you shortly.
Weren't able to join us at Digital Summit?
Check out our LinkedIn page where we shared real-time updates from the event.
Download the content we provided during the event.