Categories:
Policy & Regulation
PARSEC sectors:
Energy
,
Environment
,
Food
Application fields:
Energy & Natural Resources
,
Industrial
,
International Bodies
,
Managed Living Resources
Keywords:
biodiversity
,
climate
,
energy
,
environment
,
European Commission
,
food
,
policy
,
pollution
In December 2019, the European Commission (EC) presented the European Green Deal as their strategy and roadmap towards a climate-neutral Europe by 2050. It aims to tackle climate-environmental challenges, but also to transform the European economy and society towards sustainability and inclusiveness, protecting its natural assets as well as health and wellbeing of its citizens. It comprises several policies, including on clean energy, biodiversity, sustainable food systems, and pollution.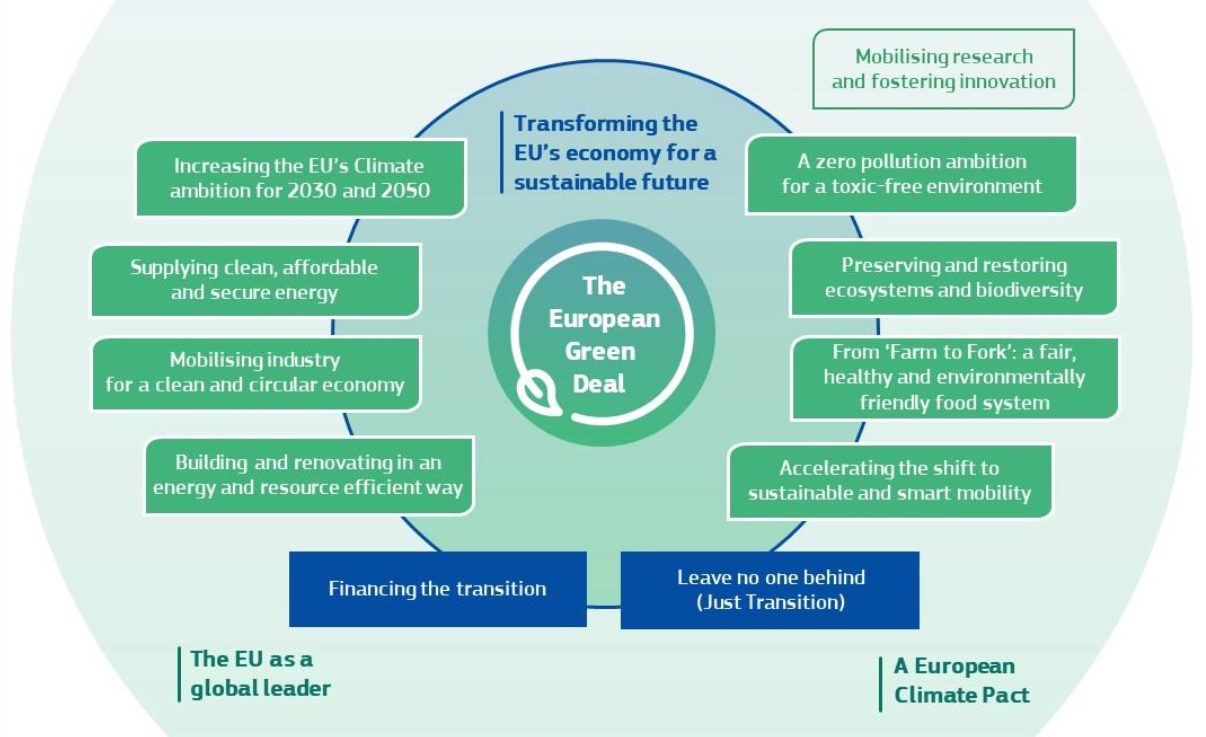 The European Green Deal comprises several policies, including on clean energy, biodiversity, sustainable food systems, and pollution. Energy policies will increase the demand for renewable energy and enabling infrastructure. Earth Observation (EO) can contribute e.g. to the detection of suitable locations for alternative power generation, monitoring of infrastructure, and forecasting renewable energy supply. To support pollution policies, EO can measure air and water quality and detect polluters as well as contribute to reducing pollution e.g. by means of precision agriculture. Further, EO can monitor ecosystems in e.g. marine, urban, or rural areas, detect the condition of these, as well as enable planning of measures to preserve and restore ecosystems. Supporting response to the European Green Deal policies and goals creates demand and thus opportunity for EO-enabled products and services across and beyond all PARSEC sectors.
The European Green Deal will require heavy investment to achieve its goals, a significant amount of which is to be expected to go into monitoring. The necessity of digital solutions such as satellite data contributing to these efforts has been pointed out by numerous actors.
Each of the policies of the European Green Deal, some of which like the Farm-to-Fork Strategy are yet to be published, will have own implications for observation needs. The Market Trends Observatory will follow new developments around this topic.