Categories:
Market Trends
,
Technology
PARSEC sectors:
Energy
,
Environment
,
Food
Application fields:
Energy & Natural Resources
,
Industrial
,
International Bodies
,
Managed Living Resources
,
Public Authorities
,
Services
Keywords:
analytics
,
Cloud
,
computing
,
platform
,
storage
,
tools
Since the advent of the Copernicus Sentinels era and the rise of new, venture-backed business models relying on large fleets of small satellites, more and more data is becoming available. To unlock the insights provided by this unprecedented volume of diverse data, users need robust access, powerful computation and innovative processing methods. This need can only be met by a substantial paradigm shift: moving from local storage and in-house processing to distributed, Cloud-based solutions where the data is comfortably sitting next to advanced computational and analytical capabilities.
And this is where the EO Platform Ecosystem comes in the picture. Major ICT providers, traditional Earth Observation (EO) powerhouses, but also some small, innovative and agile companies are today offering online access to data, storage, computation and analytical tools in a very wide range of platforms. Navigating this complex picture and understanding what each platform has to offer is essential for companies and entrepreneurs who want to launch their services into the market.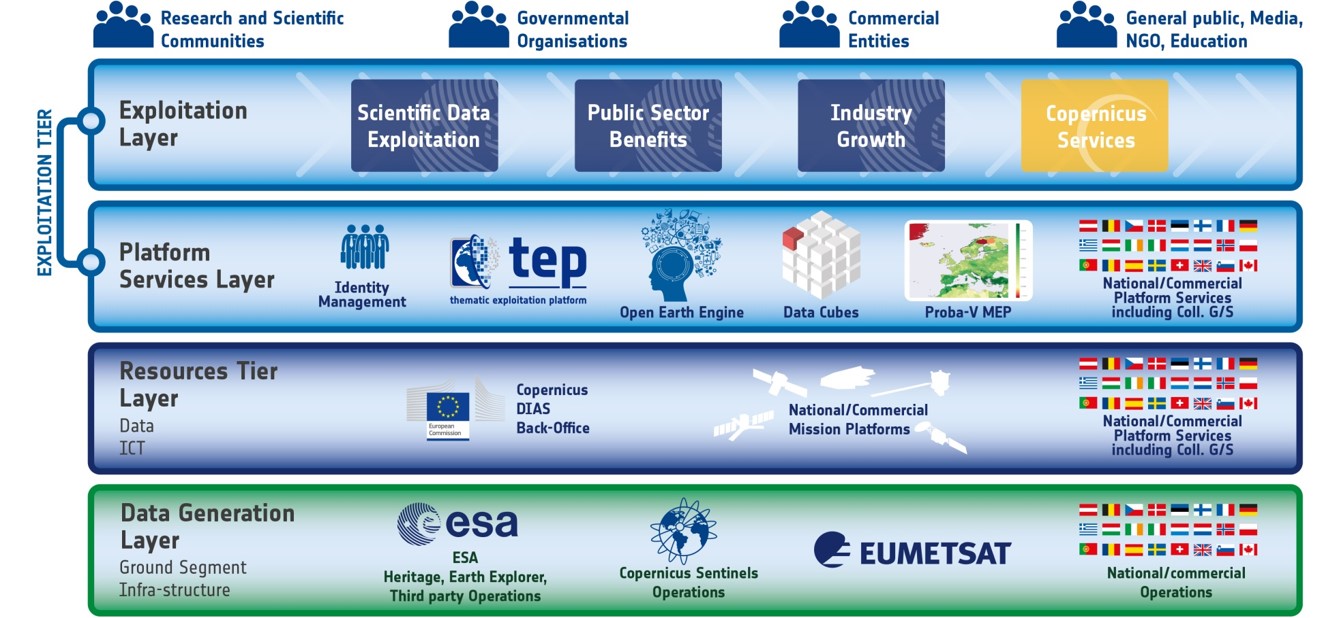 A good starting point is the "tiered" picture of this ecosystem which is progressively becoming the standard representation:
The "Data Generation Tier" is essentially where data becomes available. This includes the major open EO data catalogues (e.g. Sentinels, Landsat), proprietary data from private operators and, at times, higher-level/derived products.
The "Resources Tier" is where Cloud-based computational services are made available, so that users can process the data on the cloud.
The "Platform Tier" provides standard web-interface services as well as more advanced toolboxes. This is where intermediate users add value to the data and produce or expose services.
The "Knowledge Tier" is where end-users gain access to the knowledge/insights provided by the services. In that sense, it has "marketplace" characteristics.
Through the PARSEC Market Trends Observatory, we will be producing various insights on the different capabilities presented at each tier and how the beneficiaries of the PARSEC Accelerator or other young entrepreneurs out there can benefit from each resource. As a first step, let us look at some high-level perspectives related to platforms in different or even across tiers.
More insights on the EO Platform trends will be made available in the coming months. At this point, what is worth noting in this complex landscape is the relative lack of in-situ observations. A concerted effort to address this issue is done within the PARSEC In situ Data Hub, which will be made available to second stage beneficiaries of the PARSEC Accelerator and, at a later stage, to the wider community.